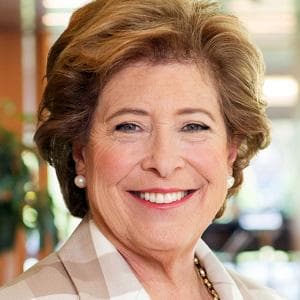 Letter from the Board Chair: What's Going On
Elaine D. Rosen
Chair, The Kresge Foundation Board
A few weeks into the stay-home orders issued in my community this spring — and in cities across the U.S. — I suffered a scratched cornea, necessitating a visit with my doctor. As I left my house for the first time in weeks and traveled the eerily still streets while wearing a homemade face mask, Marvin Gaye's song "What's Going On" came to mind. The song had calmly called on the nation's conscience when it debuted in 1971. I heard and felt it then, and in times of trouble since. Here it was in my head yet again.
Mother, mother
There's too many of you crying
I had been steeped almost 24/7 in devastating news coverage of the COVID-19 pandemic: from first responders in ICUs described as war zones to teachers attempting to feed and educate students and their families from afar; from reports of unfathomable morbidity rates among Black and Brown people succumbing to the virus to a dereliction of leadership at the highest levels. All of this was coupled with an economic cliff dive and an ensuing recession that was already wreaking havoc from Main Street to Wall Street.
During that quiet ride to my appointment, I recalled a decision Kresge President & CEO Rip Rapson and I had somewhat sheepishly made to cancel our in-person quarterly Board of Trustees meeting. The gathering was scheduled to take place mid-March in New Orleans. The cancellation did seem overly cautious at the time, but by March 9, the Big Easy had seen the first of what would be an overwhelming tide of COVID-19 cases. Five days later, the city's first death was reported.
Brother, brother, brother
There's far too many of you dying
You know we've got to find a way
To bring some lovin' here today.
For the first time, we conducted our trustee meeting virtually. As always in times of crisis and stress, our discussion was framed with the mandate "to promote human progress" — laid down by our founder Sebastian Kresge in 1924. Over the years, we have supported hundreds of nonprofit organizations working for change across the country; suddenly the vast majority of them were facing unprecedented need.
During that meeting, the board recertified the mission and purpose of the foundation and expressed our intent to double down on who Kresge is and what we stand for. Therefore, the foundation's first move would provide maximum flexibility to existing partners to sustain their critical work. In the weeks that followed, staff did that and more: They listened to community leaders, offered additional grant funding or extensions and provided other supports to ensure that these nonprofits in cities across America could continue the essential work of serving their constituents and advancing their own missions.
Meanwhile, as May approached, I did my own small part to flatten the curve by staying indoors. I spent the long days washing my hands, trying to limit news intake, staying engaged with work and making more time to connect with family and friends. I remained optimistic that Memorial Day weekend would not only bring the unofficial start of summer, but also mark the transition to a new normal for a country on the other side of an epidemic.
I could not have been more wrong.
The murders of two Black men — Ahmaud Arbery at the hands of his white neighbors, then George Floyd, under the knee of a white Minneapolis police officer — and the outpouring of grief and rage that filled streets coast to coast gave fresh meaning to the song that was continuing to play in my head as a sort of soundtrack to these difficult times.
Picket lines and picket signs
Don't punish me with brutality
Talk to me, so you can see
Oh, what's going on
The horror weighed heavily on our hearts and in our minds when the board met again virtually in early June. We knew the marches were not a response to isolated incidents, but rather to an established pattern of entrenched violence against African Americans that has gone unpunished for centuries.
We don't know precisely what it will take to change our system of injustice. But we do know that the appalling silence and inaction of government can't continue. We don't have answers. But we do have an obligation to help discover them.
More than a decade ago, Kresge chose to enliven its mission with a focus on expanding opportunity in America's cities by challenging underlying inequities and injustices. Why? Because we've seen how systemic inequity has the potential to fast-track a fever to the ICU or a disagreement to a body bag. In 2019, we reaffirmed that commitment by adopting equity as our sixth foundational value. In this annual report, I invite you to learn more about the staff's most recent work to operationalize equity inside and outside the organization.
This foundation has the unique privilege and therefore an abiding obligation to deploy all our resources — human, financial and reputational — to be a part of the solution. We will do just that, using our core values as unshakable guideposts just as we have during the course of the foundation's 96-year history. The smart, passionate and talented Kresge staff has never been more prepared for what is certain to be a complex and long fight, because the sweetest reward — equity — is literally a matter of life and death.
Oh, you know we've got to find a way
To bring some understanding here today
C'mon talk to me
So you can see
What's going on
Being the chair of The Kresge Foundation Board of Trustees is a great privilege — not only to serve, but to learn alongside some of the most humane, generous and smart leaders of our time. My personal journey with Kresge wouldn't be possible without the guidance and mentorship of my predecessor, hero and dear friend, Irene Hirano Inouye. As if the world hadn't suffered enough, we were all rocked to the core by her death in April 2020. When I was new to the sector, Irene patiently taught me about philanthropy, modeled how to make hard decisions with grace and helped me see my role as first among equals. The Kresge Foundation is a different — dare I say, better — institution because of the 16 years that Irene committed herself to its service. For that, we shall be forever grateful.
In 2019, the board was thrilled to welcome Richard Buery, Jr., as our newest member, who brings deep expertise in early childhood education and higher education access and success. These interests were seeded as a college student when he started a summer enrichment program in a Boston neighborhood and taught elementary school at an orphanage in Zimbabwe. Richard's combination of experiences, passion and skills is already proving invaluable to the board.
And we bid farewell and our deepest gratitute to trustees Phillip Clay and Steven Hamp, who retired in June 2020 after 12 and 18 years of service, respectively. Both gave immeasurably to the foundation, helping to shape our philanthropic strategy toward expanding opportunities in America's cities.
We don't get to choose our time here, but we do get to choose what we do in our time. As you read this report, the Kresge staff and trustees are likely refining our tactics, but not our mission. We have reaffirmed who we are and what we strive to do in the spirit of our founder's wishes. We have work to do. And we will do that work together.