Education
Keeping Higher Ed Accountable
Excelencia in Education helps colleges be intentional about Latino student success
By Natalie Gross
Sarita Brown and Deborah Santiago met while working for the U.S. Department of Education in the late 1990s. It was around the time the federal government started granting funds to colleges and universities with large numbers of Hispanic and Latino students, which put so-called "Hispanic-serving institutions" on the map.
The two women have dedicated their careers to making sure those institutions — and others — are living up to that description through their Washington, D.C.-based nonprofit, Excelencia in Education. Using data, research and hands-on help for schools educating Latino students, they have been keeping higher education accountable for the last 16 years.
"We are explicit about the accelerating of Latino student success," says Brown, Excelencia's president. "We founded (Excelencia) to work with those who are ready and willing to hold themselves accountable for producing better results."
For starters, that meant defining what "serving" should look like.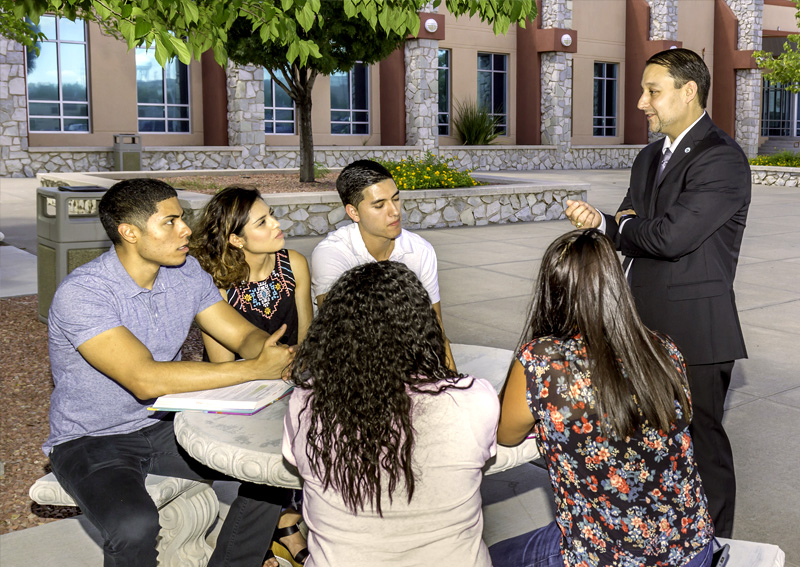 William Serrata speaks with students at El Paso Community College
Majority Doesn't Always Rule
"Sarita and I have seen that you shouldn't assume that just because people comprise the majority of a college's enrollment that the majority is served well," says Santiago, Excelencia CEO and self-proclaimed "data nerd." "You could have 50% of your students be Hispanic, and you do the same thing you've always done."
"If schools really want to serve Latino students intentionally, they have to address equity," Santiago says. "There's no way around it."— Deborah Santiago, Excelencia CEO
According to Excelencia figures, 539 schools met the enrollment threshold to be deemed Hispanic-serving institutions (HSIs) in 2018-19, meaning their full-time student population is at least 25% Latino. Another 352 are considered emerging HSIs, a term popularized by Excelencia and now widely used to describe institutions with a Latino student population between 15 and 24%.
Excelencia contends that fewer than half of the schools are intentional about their service to Latino students. "If schools really want to serve Latino students intentionally, they have to address equity," Santiago says. "There's no way around it."
Excelencia measures how schools are stacking up across three broad categories: data, practice and leadership. The organization investigates how well schools are enrolling, retaining and graduating Latinos. Other areas of focus include financial support and faculty diversity. "These are areas where institutions can have a better impact to transform and better serve students," Santiago says.
"(Excelencia) tirelessly advocates on behalf of Latino students and is constantly sharing examples of best practices, of good behavior."— William F. L. Moses, Managing Director, Kresge Foundation
Excelencia has been highlighting successful schools and programs for years in its Examples of Excelencia, using data to show what's really working on campuses, and how other schools can implement similar interventions.
Recently, it took the work further by launching a new Seal of Excelencia. This rigorous certification program recognizes schools that are successfully serving Latinos. The Seal, now in its second round of applications, is highly sought after by HSIs and non-HSIs alike.
"(Excelencia) tirelessly advocates on behalf of Latino students and is constantly sharing examples of best practices, of good behavior," says William F. L. Moses, managing director of The Kresge Foundation's Education Program, and a funder that Excelencia deems a "vital supporter." "With thousands of colleges in the United States, you can't really hope to make change by just working with individual colleges one-by-one. Rather, you need to have a systemic approach that identifies best practices and highlights those practices broadly, which is what Excelencia does."
Reframing the Discussion
Before Excelencia came on the scene, it wasn't unusual for Latino students to be characterized as "high school dropouts, English-language learners and undocumented immigrants," Brown says.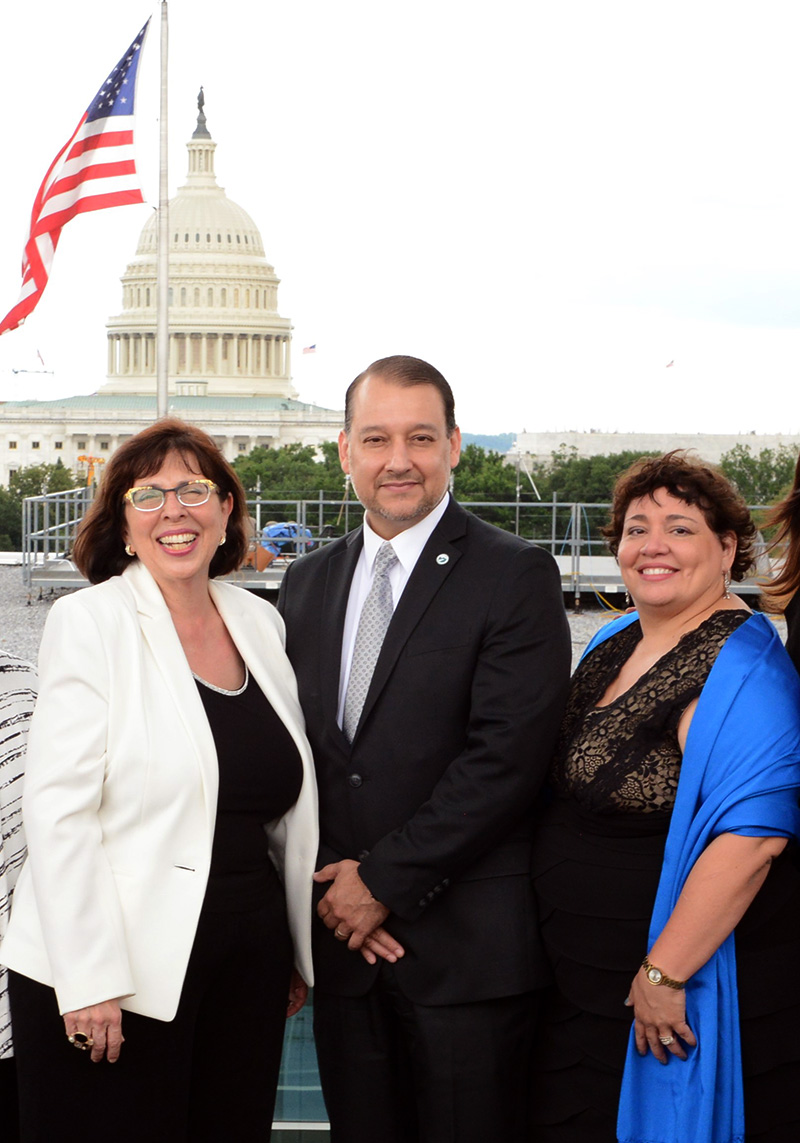 From left to right: Sarita Brown, William Serrata and Deborah Santiago
In 2000 — four years before Excelencia was founded — just 22% of Latino 18- to 24-year-olds were enrolled in college, compared to 39% of their white peers. Additionally, 15% of Latino 25- to 29-year-olds had obtained an associate degree or higher, while the same was true for 44% of their white counterparts, according to U.S. Department of Education statistics.
Excelencia's founders understood what others had not yet embraced: that Latino students are more likely to attend community college, enroll part-time and not be as academically prepared or financially equipped as their peers, who fit the more traditional student profile.
"That actually is more indicative of the post-traditional student," Santiago says. "Institutions that are not adapting to serve that profile of student are not effectively serving, from our perspective."
She and Brown started Excelencia to give Latino students a voice and to work to reduce equity gaps. With their first research publication in 2004, "Latino Student Success at Hispanic-Serving Institutions," they started reframing the conversation. When they released their "How Latino Students Pay for College" publication in 2005, people — including policymakers — were starting to notice.
"People hadn't talked about Latinos in higher ed with anything other than demography and HSIs. And we went there," Santiago says. "That felt like quite an accomplishment."
By 2018, the latest year for which federal data is available, 36% of Latinos between 18 and 24 had enrolled in college; the percentage of 25- to 29-year-olds who had earned degrees had more than doubled to 31%.
While it isn't possible to quantify exactly how much of that growth can be attributed to Excelencia, Brown and others familiar with the organization are confident their work has played a role. That's especially true when it comes to sparking specific discussions about what's working on campuses and gaining the support of institutional leaders — and the public — who want change.
"I don't think we'd be talking about 'serving' without Excelencia," Brown says.
'A Laser Focus'
Even as more and more organizations rise up and take on the charge of bettering Latino student achievement, Brown is certain that as long as equity gaps persist, there's still a place and a need for Excelencia.
"Institutions that are not adapting to serve that profile of student are not effectively serving, from our perspective."— Deborah Santiago, Excelencia CEO
"Every day we are saying, 'It is unacceptable to live with this equity gap, and it is the responsibility of institutions to play a leadership role and to engage and serve this population,'" she says. "Deborah and I are not backing off on this one. We're just not."
That determination and unwavering mission is a big reason for the organization's success, says El Paso Community College President and Excelencia board member William Serrata.
Though Brown and Santiago have likely been given many opportunities to focus their research on the bigger higher education picture, they've never strayed from their "laser focus," he says, adding, "That is what drives their work, day in and day out, and it has brought national attention to this particular work."
Indeed, Excelencia's equity-based approach has had ripple effects for other student populations that include first-generation college students, those with low incomes and other underrepresented populations, who are the Kresge Education team's priority.
"Excelencia is, without question, an invaluable partner in our efforts to expand educational opportunity," Moses says. "With each campus partnership and countless data-driven insights, Excelencia is accelerating Latino student success."
Freelancer Natalie Gross writes from Arlington, Virginia.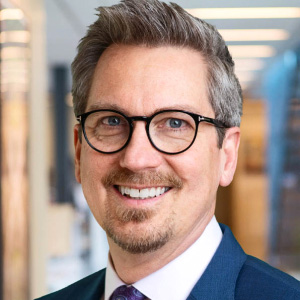 Striving for Equity: Degree by Degree

William F.L. Moses, Managing Director
Our commitment to increasing equitable higher education access and success is the cornerstone of our grantmaking. We believe that a more equitable higher education system is one that enables historically underrepresented students — Black, Latino, Asian and Pacific Islander, Native American, first-generation and students from low-income households — to realize the promise of a college education at similar rates as their white or well-resourced peers.
For most graduates, degree attainment is tantamount to increased opportunity and economic security. Today's students pursue college degrees alongside caretaking, professional and other responsibilities. Access is simply not enough. Targeted supports, alongside equity-driven institutional practices, are critical to helping our students persist and earn degrees.
In 2019, we proudly partnered with several organizations that share our commitment to promoting more equitable educational outcomes.
The Thurgood Marshall College Fund, for example, is exploring innovative strategies to help former historically Black college and university students who stopped short of earning a degree restart their studies digitally and cross the degree-completion finish line. Excelencia in Education, featured in this report, continues to provide targeted technical assistance to colleges to help them enact policies to boost educational outcomes for Latino students. And our Boosting Opportunities for Social and Economic Mobility for Families (BOOST) initiative, a joint endeavor with Kresge's Human Services team, aims to strengthen partnerships between human services nonprofits and community colleges. These partnerships will connect people living with low incomes in cities to human service supports and educational pathways that advance social and economic mobility.
Working with our partners, we're constantly examining where equity gaps exist to deploy resources in targeted ways to expand opportunities for the students we are humbled to serve.