Human Services
Mothers Lead the Way for Mobility
Springboard to Opportunities helps people in subsidized housing reach their goals.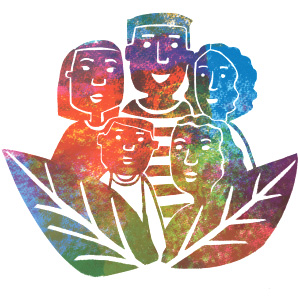 By Loren Berlin
Every mother wants her family to thrive.
But not every family starts with the same resources and support to survive, let alone thrive. The structure of our systems and society, coupled with the stories we tell ourselves about families living in poverty, is holding millions of families back.
The public benefits programs that 59 million people in the U.S. rely on aren't designed to help families thrive. The supports are highly restrictive, preventing families from making decisions based on their needs and the conditions in their communities. Most of those programs reduce or terminate assistance as an individual's financial situation improves, even slightly. The result is a system that penalizes individual progress, negates important economic opportunities and limits access to critical benefits programs for people who live in poverty.
"The punitive nature of these programs fuels a false narrative that families don't need the resources when, in reality, they absolutely do but are afraid to access them for fear they may lose other benefits they also need," says Aisha Nyandoro, CEO of Springboard to Opportunities, a Mississippi-based nonprofit organization that works with people living in subsidized housing to help them reach their educational, work and life goals.
Springboard focuses almost exclusively on Black women and children because they are more likely to live in deep poverty than any other demographic group. Based on 2018 Kids Count Data Center figures, 32% of Black children were living in poverty in the United States, as compared to 11% of white children.
Meanwhile, the U.S. Census reports that Black women earn an average of 61 cents for every dollar earned by a white man and are eight times more likely to work jobs that pay poverty-level wages. The families that Springboard works with tend to live paycheck to paycheck, battling a public benefits system that could meaningfully help them break cycles of intergenerational poverty. Instead, it undermines what they are doing to work toward a better future.
Changing the Narrative
The fundamental problem is one of design. "The policies and programs that constitute America's social safety net are based on what individuals who are not living in poverty believe to be the needs of those living in poverty — instead of feedback from families with lived experiences of poverty," Nyandoro says.
"You have to change the narrative, and to do that, you have to change the narrator. That means making sure that individuals with lived experiences of poverty have an opportunity to tell their truth and not have someone else tell that story on their behalf."— Aisha Nyandoro, CEO of Springboard to Opportunities
An effective approach is human-centered design, which places the needs of those affected at the center of the process. In practice, this means designing programs intended to help individuals and families move out of poverty together with those families. It means recognizing the expertise of families with lived experience, and balancing that with the knowledge of people who implement and analyze the system.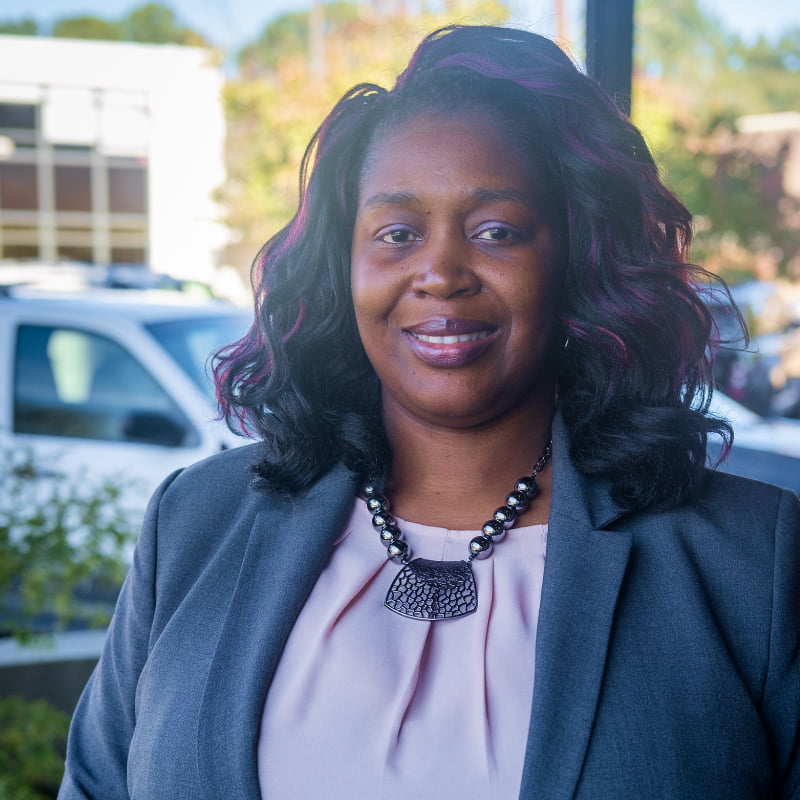 With support from Magnolia Mother's Trust, Tia Cunningham was able to pay off bills and repair her credit.
"At Kresge, the Human Services team focuses on person-centered systems change, because we believe that the system should be inclined toward helping people realize their own version of the American Dream," says Raquel T. Hatter, managing director of The Kresge Foundation's Human Services Program. "We make positive assumptions that all people are capable and have agency."
Operationalizing people-centered design is not as simple as bringing the people living in poverty — whose voices are so frequently unheard in the United States — to the table. While that is an important step, meaningful systems change requires fundamentally rewriting popular misconceptions regarding people living in poverty, Nyandoro says.
"If you bring new people to the table, but everyone else around the table stays the same and still believes the same philosophies and ideologies, you're not changing the table, so you aren't changing the narratives that are the basis for poor program designs," she explains. "You have to change the narrative, and to do that, you have to change the narrator. That means making sure that individuals with lived experiences of poverty have an opportunity to tell their truth and not have someone else tell that story on their behalf."
It's that desire to change the narrator — to give people the power to tell their own stories and the agency to make their own choices — that is behind Springboard's "radically resident-driven" program that looks to those affected to identify areas of need and then partners with them to create programs to address the issues.
"The beauty of Springboard's approach is that it affirms what people bring to the table," Hatter says. "A group of true experts get together and are being tapped to co-create solutions with partners like Dr. Nyandoro."
The Magnolia Mother's Trust
One of those true experts is Tia Cunningham, a 40-year-old single mother of three who works in an assisted living facility. In 2018, Cunningham joined The Magnolia Mother's Trust (MMT), a pilot program launched by Springboard to provide 20 Black mothers earning less than $12,000 annually with $1,000 a month, free from traditional regulations that hold families back, for one year. Growing out of repeated conversations in which families identified cash as a fundamental need, the MMT was designed by the women who participated in the program in partnership with Springboard staff.
"The MMT is really us saying that we can make change that centers on the real needs of real families," Nyandoro says, "and not only that we can, but we should because that's how we effect change, sustain change and allow families to be empowered and amplify their voices."
The results are impressive. Over the course of the year, the percentage of participants with a completed high school education rose from 63 to 85%, and the number of families able to pay all their bills without additional support increased from 37 to 80%. The mothers collectively paid off more than $10,000 in predatory debt.
Cunningham was able to use the money for the most pressing issues facing her family. Specifically, the cash went toward overdue medical bills and helped her begin to repair her credit. She and her fiancé were also able to save enough for a down payment on a house. Today, they live in their new home.
As the pilot was being completed, Springboard and the MMT worked with other organizations involved in universal and/or guaranteed basic income projects, including the Economic Security Project; the universal basic income project in Stockton, California; and The Aspen Institute's Financial Security Program. Springboard was also positioned to take the MMT to the next level with a larger study involving about 80 women in 2020.
"The MMT is really us saying that we can make change that centers on the real needs of real families."— Aisha Nyandoro, CEO of Springboard to Opportunities
But so far, for Cunningham, participation in the MMT has been a game changer. "We have the kids in a better neighborhood in a better area, and they go to a better school, so I got that part settled," she says. "Now I am looking for a better job.
"The Magnolia Mother's Trust made me realize that I want to do more. This is not it; there is more out there, and I want to push myself to do more."
Freelance writer Loren Berlin is based in Evanston, Illinois.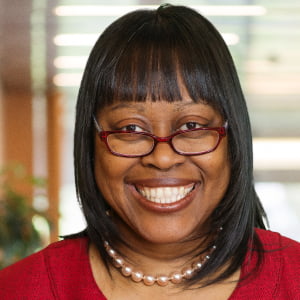 Advancing Social and Economic Mobility for Families
Raquel T. Hatter, Managing Director

When we achieve racial equity, a person's racial identity no longer predicts his or her educational attainment, health, wealth and well-being. To build it, we must eliminate the long-standing structural and systemic barriers that stand in people's way and ensure that everyone has the opportunity and power to climb the social and economic ladder and achieve their dreams.
For the Human Services Program, racial equity is the principle that guides all of our grantmaking activity. Centering this principle, we worked with our partners throughout 2019 to advance social and economic mobility for children and families through person-centered systems change driven by innovation at multiple levels.
We learned from our Next Generation grantees how they activated new strategies and solutions to achieve racial equity and expanded the initiative to include cohorts in Detroit and Memphis.
In cities like New Orleans, we worked to advance racial equity by supporting cross-sector efforts, anchored by public and nonprofit human services organizations, to change systems and create the circumstances for families to thrive.
We invested in leaders of color and explored ways to broaden our awareness of the use of and need for capital to advance social and economic mobility through high-road business practices, inclusive talent pipelines and minority entrepreneurship.
Together with the Education Program, we launched the Boosting Opportunities for Social and Economic Mobility initiative. BOOST aims to strengthen partnerships between community colleges and human services nonprofits to connect low-income individuals with critical human service supports and educational pathways that will lead to a more secure and prosperous future.
As always, our work was grounded in power-sharing, partnership, co-learning and co-creating with organizations from multiple sectors, families and communities.
We believe that dismantling inequities, and the institutional racism embedded within them, must be at the heart of what we do. We move forward with a relentless resolve to work with our partners across the nation to create a better, brighter and more equitable future for everyone.