Environment
Water Warriors
Meeting at the intersection of climate change, water and equity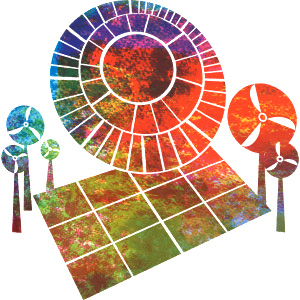 By Laurie Mazur
As the planet heats up, water crises are on the rise.
The specifics vary by place — flooding in the Gulf South; water shortages in California; utility shut-offs in Detroit. But one thing is true almost everywhere: Pervasive inequity means that water crises hit low-income communities and people of color first and worst.
This is also true: When those communities come together to share expertise and build solidarity, real change is possible — from neighborhoods on the front lines of climate change to the halls of Congress. That's the idea behind the national Water Equity and Climate Resilience Caucus, launched by PolicyLink in 2018 with support from The Kresge Foundation. The caucus works to shape solutions to water challenges, centering on the needs of front-line communities. Its members share information and a common cause.
"The caucus allows us to compare notes and say, 'Hey, what's happening in Flint (Michigan) is not unlike the water crisis in the Navajo Nation,'" says Kim Pate, vice president of the NDN Collective, a South Dakota-based indigenous rights organization. "Then we can create widely shared awareness so that people can see the patterns and take collective action."
The idea for the caucus began to germinate in 2016, when Dr. Jalonne White-Newsome joined The Kresge Environment Program as a senior program officer. At that time, "the intersection of climate change, water and equity was not really defined," she says. "There was a dearth of research, models of work and funding. It was a huge gap that needed to be filled."
"Front-line groups were hungry for a forum where community concerns stay centered, and local leadership is out in front."— Kalima Rose, VP for Strategic Initiatives, PolicyLink
The need for such work grew more urgent after the 2016 election, when the new administration began to dismantle a half-century's worth of environmental protections. But organizations working on water issues rarely focused on the population of greatest concern to Kresge: low-income communities of color in urban areas.
With the foundation's support, PolicyLink colleagues surveyed front-line groups to understand the challenges they confronted, and to see if there was a need for a grassroots forum on water and climate issues. The response? A resounding "yes."
"Front-line groups were hungry for a forum where community concerns stay centered, and local leadership is out in front," says Kalima Rose, vice president for strategic initiatives at PolicyLink. In this spirit, Rose recruited Colette Pichon Battle to serve as caucus co-chair. The national Water Equity and Climate Resilience Caucus was born.
'Watchdogs for Each Other'
The caucus provides a dedicated space for front-line activists to set their own agenda and priorities. There have been in-person convenings as well as webinars and online networking. Work groups connect monthly to discuss safe and affordable water; climate-related drought, flooding and sea-level rise; and workforce and business opportunities in green water infrastructure. The groups also have collaborated on a climate resilience and water equity policy platform, which has informed legislation at the federal and state levels.
Caucus members learn from one another, creating powerful synergies and alliances. For Monica Lewis-Patrick, president of We the People of Detroit, the caucus is "a library of resources, of influence, of expertise that you can call upon, that you can trust."
And caucus members share tactics and strategies. For example, in 2019, caucus members in California — from the Community Water Center and Leadership Counsel for Justice and Accountability — helped secure a $1 billion infrastructure fund for communities that lack access to clean water. Now advocates in Michigan are borrowing their playbook to promote similar statewide investments. And the Gulf Coast Center for Law and Policy developed a "Green New Deal" for the Gulf South, which inspired the NDN Collective to create an analogous plan for Indigenous communities across the country.
Caucus members have also come to understand the complex connections among issues such as flooding and water quality. "We're not as isolated as we may think," Pate says, "because these things are all interconnected."
"The coalition has been shifting over the last year, identifying equity as a priority and a principle for how decisions are made."— Ronda Chapman, Senior Associate, PolicyLink
That deep understanding of linked challenges safeguards against "solutions" that solve one problem at the expense of another. "We're kind of like watchdogs for each other," Pate says.
PolicyLink helps bridge the Water Equity and Climate Resilience Caucus with the Clean Water for All Coalition, which is primarily comprised of environmental groups with a presence in Washington, D.C., policy-making circles.
"The coalition and caucus complement one another," says Ronda Chapman, a senior associate at PolicyLink who leads the coalition.
While the national coalition provides caucus members with real-time connection to policy developments, caucus members bring equity principles and a grassroots perspective to those shaping federal policy. As a result, "the coalition has been shifting over the last year, identifying equity as a priority and a principle for how decisions are made," Chapman says.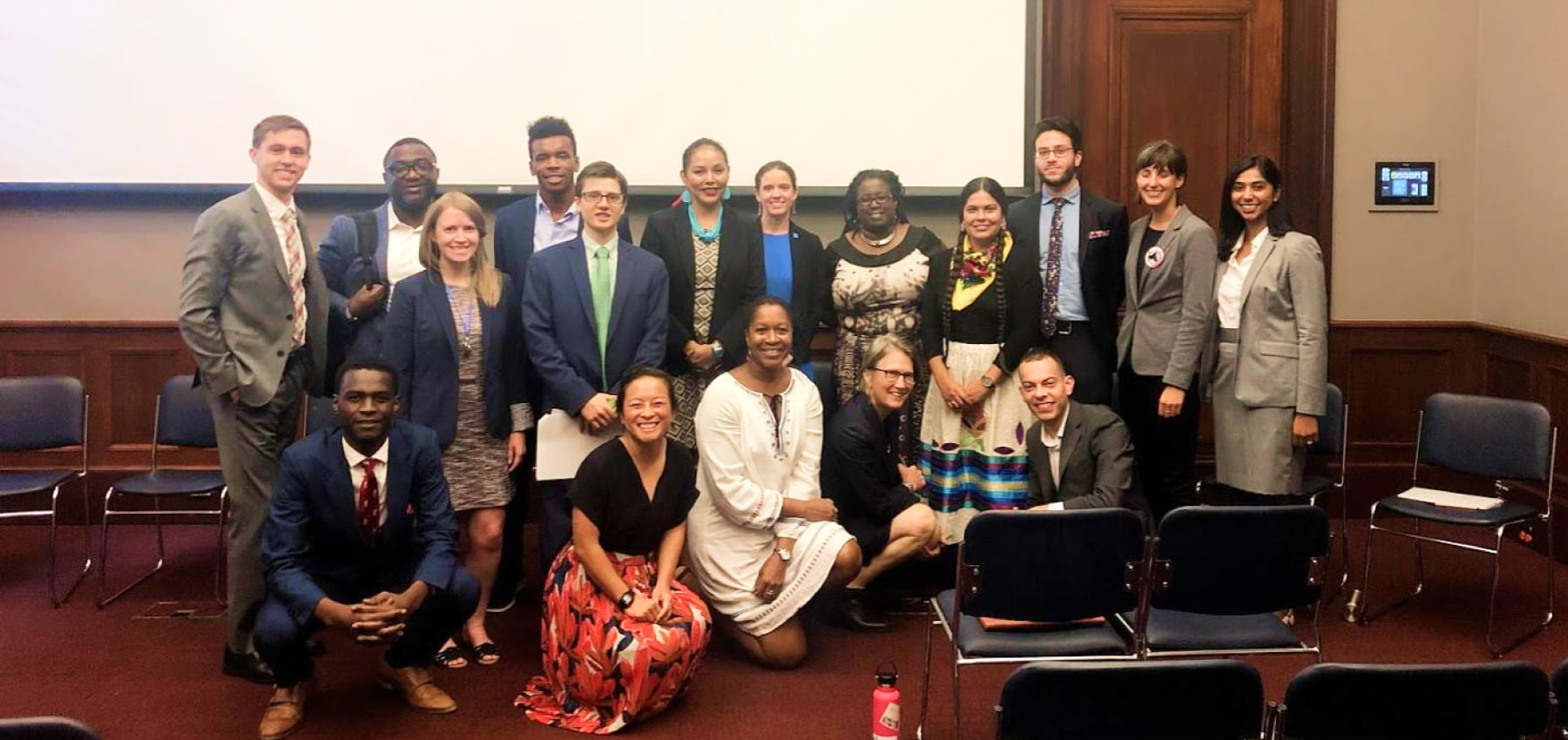 Members of the Water Equity and Climate Resilience Caucus
Water Warriors
Chad Lord has seen that shift up close. As senior director for water policy at the National Parks Conservation Association, Lord serves as co-facilitator of a water policy work group for the Clean Water for All Coalition.
Thanks to the caucus, he says, "There's a deeper appreciation not only for equity, but for inclusion. The caucus brings the voices of these amazing men and women — these water warriors — into the bigger conversation. And when you are inclusive, your focus and your policies change. That's definitely happening, and it's been a win for everybody involved."
The focus on equity and inclusion has also led to concrete policy wins. Caucus members helped secure increased funding for clean water in 2019; contributed to pending human rights legislation that would prohibit water shut-offs for low-income households; and won new provisions in the pending reauthorization of the Water Resources Development Act that require the Environmental Protection Agency to document water affordability issues and develop remedies in the next year.
"There's a deeper appreciation not only for equity, but for inclusion. The caucus brings the voices of these amazing men and women — these water warriors — into the bigger conversation. — Chad Lord, Senior Director for Water Policy, National Parks Conservation Association
And at a time when the environmental movement has been described as being dominated by overwhelmingly white "green insiders," the caucus is strikingly diverse — demographically and otherwise. Its members hail from cities and rural communities in every region of the country, and they address a wide spectrum of issues.
"You have folks fighting for affordability and clean water and infrastructure," Chapman says. "And they are all saying, 'Wait a minute — something's not right here.' That basic concern for water is what unites us."
Through shared understanding and purpose, the Water Equity and Climate Resilience Caucus helps members transcend differences that might otherwise divide them.
"There has been so much solidarity built," White-Newsome says. "It goes across racial lines, it goes across geographic lines, it goes across scales and sectors — and that is pretty powerful."
Laurie Mazur is based in Takoma Park, Maryland.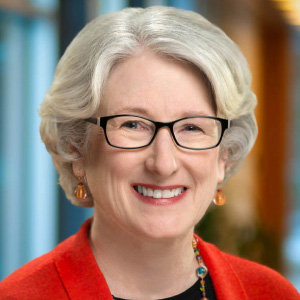 Protecting Public Health Drives Climate Action

Lois R. Debacker, Managing Director
Imagine a future in which people in American cities are protected from the near and long-term impacts of climate change because their communities have transitioned to renewable energy, prepared for climate threats and elevated equity as a priority so everyone shares in the benefits of our climate action.
Kresge's Environment team believes such a future is attainable, if the right policy incentives are put in place; municipal leaders have access to the training, technical assistance and financing required to combat and adapt to climate change; and leaders with a firm commitment to equity — particularly leaders of color and those who authentically represent the interests of people with low incomes — are meaningfully involved in climate change-related decision-making.
During 2019, we continued to support work that directly addressed the equity implications of public policies and programs relevant to climate change, particularly those at the local level. Within our interest in transforming urban infrastructure that has critical implications for climate mitigation and adaptation, Kresge grantee partners developed frameworks for equitably transitioning to clean energy. They drafted justice-centered energy policies, provided technical guidance to advocates working on policy change and experimented with new methods to finance the deployment of solar energy to benefit people with low incomes.
Grantee partners supported through our Climate Resilient and Equitable Water Systems (CREWS) initiative pursued equitable solutions to urban flooding, which is exacerbated by climate change and disproportionately harms low-income communities and communities of color. Community-based organizations, environmental and environmental justice organizations, and utility leaders participated in place-based Water Equity Tables; exchanged insights from flood-prevention efforts in their respective communities; and infused meaningful commitments to equity in federal and state policy advocacy.
Also during 2019, Kresge's Environment and Health teams jointly launched the Climate Change, Health and Equity initiative, which engages health care institutions, health care and public health practitioners and community leaders in advancing policies and programs that address climate change while reducing inequitable health disparities. Protecting public health is a powerful motivator for climate action.
Reducing the pollution that causes climate change remains urgent. Kresge aims to broaden and deepen the movement of people and organizations advocating for action on climate change, while advancing racial and economic equity. It is a prerequisite to achieving a future in which all people can thrive and live healthy and safe lives despite the inevitable consequences of climate change.