American Cities, Detroit
Facing the Equity Challenge
How Detroit and Minneapolis are bridging the gaps between commerce and community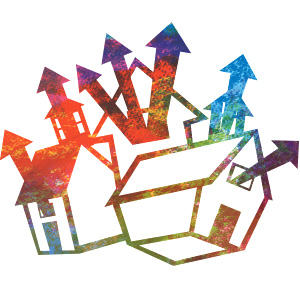 By John Gallagher
Many American cities have enjoyed a comeback in recent years, particularly in their downtown cores.
But such revitalization has made it painfully obvious that not all city residents have been benefiting to the same degree. Indeed, the income and wealth gaps between educated workers in the downtown cores and residents with low incomes in the neighborhoods have remained stubbornly hard to close. This has led The Kresge Foundation to increasingly turn its attention to issues of equity and inclusive growth in U.S. cities.
That focus is illustrated by Kresge's support for two organizations through its American Cities and Detroit programs: the Center for Economic Inclusion (CEI) in Minneapolis/St. Paul and Detroit Future City (DFC) in Kresge's hometown. Both organizations are working to measure and move the needle on metrics of income, wealth and opportunity in real and significant ways.
They are also serving as role models for similar efforts in other cities. CEI has already worked with more than 20 city organizations from Connecticut to California, says founder Tawanna Black.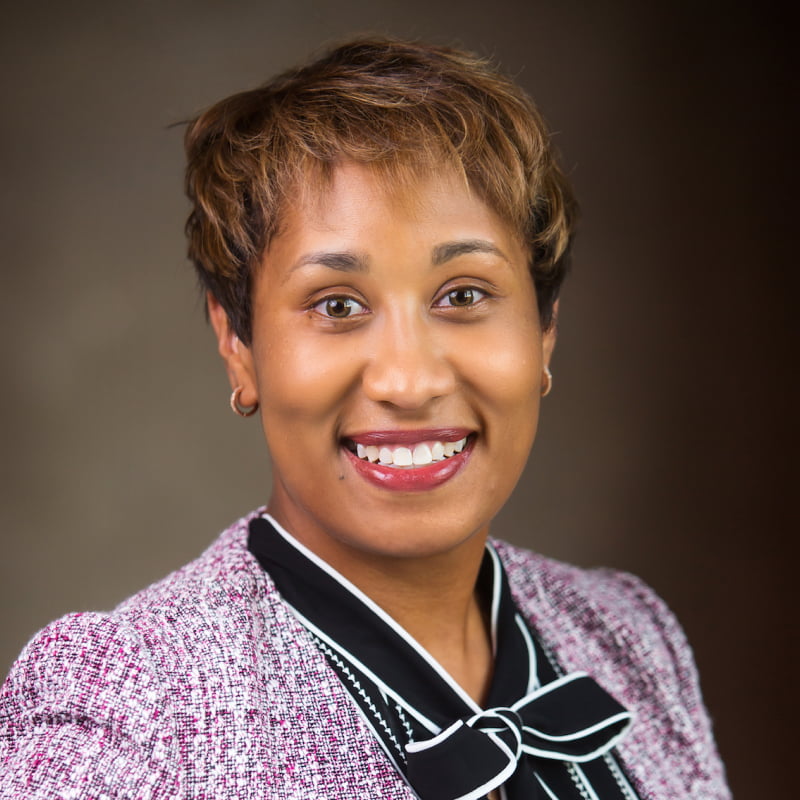 Tawanna Black is founder of the Center for Economic Inclusion in Minneapolis/St. Paul.
"We've had foundations, business leaders and government leaders reach out and ask us to come in to help them begin to think much differently about how they build economic inclusion and inclusive growth," Black says. "We're really happy to do so and partner helping other regions craft different models that really build on what has been good work — but it hasn't gotten to great yet."
CEI is a top city-based partner in the Kresge-led Shared Prosperity Partnership initiative. A collaboration between Kresge, the Brookings Metropolitan Policy Program, the Urban Institute and Living Cities, the partnership convenes local leaders in select communities to focus on challenges to inclusive growth. The effort provides data, research and access to national experts, networks and financial resources. The Shared Prosperity Partnership supported CEI in its initial efforts to convene two local roundtables starting in summer 2018.
Elevating the Metric
Black led a funders' collaborative for five years before founding CEI in 2018. She saw that while there were many good programs in place for workforce training, education and other needs, no single entity devoted itself to closing the racial wealth gap. "A new approach was needed," she says.
A couple of metrics illustrate the problem. Over the past 10 years, the Minneapolis/St. Paul metro area saw healthy increases in productivity, average annual wages and standard of living, all in the 7% or better range.
Over the same 10 years, the relative poverty gap between white metro residents and people of color decreased by only 0.6%. And the median earnings gap narrowed by only $521, with white people still out-earning people of color by more than $15,000 a year.
"And if you were to total up the dollars spent and the number of efforts expected to address them, I'm certain they would total well over $50 million to $75 million throughout this region," Black says. "So to only have made a 1% impact on that is completely unacceptable. And yet, when we think about racial equity, it's a statistic that nobody was paying attention to before we elevated that metric."
With data produced in partnership with Brookings, CEI has been building shared accountability "where we help leaders connect data to action," Black says.
CEI connects metrics such as graduation rates at colleges and workforce development, so leaders can think about how well people fare after they come out of workforce development programs, and what wage equity looks like, as well as factors such as housing affordability for rental markets.
"What leaders in this region asked us to do is really be that spotlight and remind them of the commitments that they've made — draw their attention back to it, so we don't forget those commitments — but also that we learn the promising practices that are going to move results," Black says.
"We know that … between Detroiters and suburbanites in terms of wages, even when all things are the same — the job is the same, the education is the same — there's still about a $20,000 wage gap. Understanding that and what it actually requires to close that gap is going to be really, really important." — Anika Goss, Detroit Future City
Lifting All Boats
In Detroit, Anika Goss, executive director of Detroit Future City (DFC), was reaching a similar conclusion. Having been a longtime leader with the Local Initiatives Support Corporation, Goss assumed her role at DFC about four years ago. DFC was formed in 2013, following the release of the Detroit Strategic Framework Plan — a citywide community engagement effort and series of strategies for creating job growth and economic prosperity. Among its most notable recommendations were ways to utilize Detroit's vast supply of vacant land, revitalize commercial corridors and strengthen neighborhoods.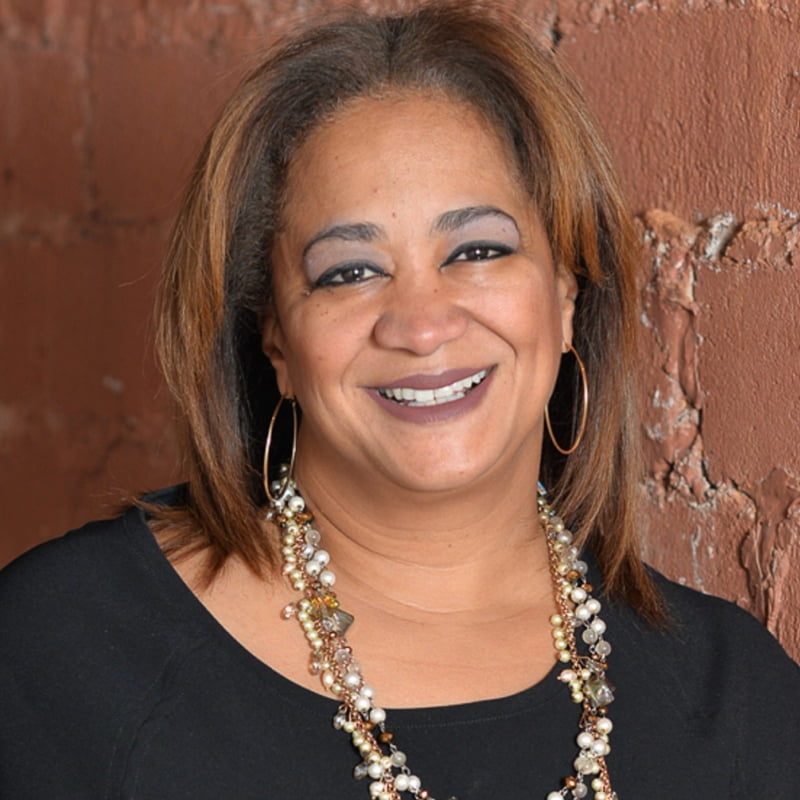 Anika Goss is executive director of Detroit Future City, dedicated to creating economic prosperity for Detroiters.
But even as the greater downtown district has seen increasing success in recent years, it was clear that a gulf existed between downtown and the neighborhoods. There are other problems as well.
"We know that … between Detroiters and suburbanites in terms of wage, even when all things are the same — the job is the same, the education is the same — there's still about a $20,000 wage gap," Goss says. "Understanding that and what it actually requires to close that gap is going to be really, really important."
Goss recently announced the creation of DFC's Center for Equity, Engagement and Research to create a baseline of key measurables by which to track progress. Alice G. Thompson, CEO of the nonprofit Black Family Development Inc. in Detroit and a DFC board member since its inception, is thrilled with the direction the organization is taking.
"For me personally, it's the most exciting thing since we began Detroit Future City," she says. "Anika is really broadening our vision of what we should be doing in our city. Anika knows we need to share information that can be used by the foundation world, by the city, by industry, to really ensure Detroit is a city that is making decisions with a clear lens on equity, and what that should look like."
Some of the studies and reports DFC has published in the recent past, such as a finding that Detroit has evolved from a city of homeownership to one of primarily renters, have already moved the debate on poverty and equity in important ways, Thompson adds.
"It has helped to inform many of us who are doing this work," she says.
Dr. George Swan III, an educator and consultant who has served on the DFC board from the beginning, says the mission of the office always included the notion of inclusive growth, but that it became more obvious in recent years.
"Burden sharing becomes very important," he says. "I think that speaks to those who have been in the city for generations and not able to participate in the viability of what's going on in downtown and Midtown and certain parts of the city. It's a challenge. The question is how to make people feel that they have the ability to be included. So, inclusion becomes a key element of the rising tide that's going to lift all boats."
Connecting the Dots
Both Black and Goss hope to change the narrative on how leadership addresses issues of poverty, income and unemployment. They want to shift the spotlight from perceived limitations of people with low incomes to a more systematic approach focusing on employers and leaders in government and civic life.
Goss says excuses for not hiring Detroiters don't cut it. She lists a few: "They're not ready, they're not qualified, they can't pass the drug test or the criminal background test," Goss says. "Or the only jobs we get excited about for Detroiters are very low-level baseline jobs, like hourly wage jobs."
But those jobs don't offer a career path for growth — an enormous problem that Goss says "is giving pause to everyone."
In Minneapolis/St. Paul, CEI has already held workshops for more than a thousand local leaders in business, government and civic life. But Black says the more important metrics of success will come in years ahead when those promising outputs translate into real outcomes for people of color with low incomes.
And it won't be enough for employers to commit to hiring or wage goals if those are viewed as just another set-aside. The goal is to see real change become part of how business is done.
"Are they seeing people of color come into the workforce, stay in the workforce and advance up the channel as a result?" Black asks. "Are they seeing more dollars being spent with businesses (of color) than before? And is that spending leading to creating more family-sustaining jobs than it was before?"
Creating inclusive policies means helping leaders "come inside their own institutions and say, 'What levers can you pull to impact that — things like not only pay, but what benefits do you offer?'" Black adds. "'Can you supplement transportation for workers who may live very far away from where your business location is? Can you supplement housing affordability for your workers — things like minimum wage that haven't gone far enough to drive equity?' We help leaders connect those dots."
A Strong Equity Agenda
Wendy Lewis Jackson, managing director of Kresge's Detroit Program, notes that a lot of Kresge's efforts in Detroit from the mid-2000s through the mid-2010s were focused on the city's core, helping create Detroit's RiverWalk waterfront promenade and fund the QLINE streetcar line.
"As we began to look at what's going to be required for Detroit to fully come back with a more just and healthy economy, it was apparent that we needed a much stronger equity agenda that was focused on neighborhoods," she says.
"If the person that you're seeing now who looks to you to be someone who is really, really low income — if that person has every opportunity, just like you do, to access wealth, to improve their own condition for her family, to live in a neighborhood that's really great, the same kind of neighborhood that you want to live in? "— Anika Goss, Detroit Future City
Chantel Rush, managing director of Kresge's American Cities Program, echoes Jackson's words. "People have been thinking about place-based transformation for a long time," Rush says. "They've thought about, 'How do I strengthen neighborhoods? How do I strengthen cities?' But they haven't necessarily had a clear focus on ensuring that the least well-off benefit from the change."
Goss says it's a matter of thinking differently about inclusivity. "If the person that you're seeing now who looks to you to be someone who is really, really low income — if that person has every opportunity, just like you do, to access wealth, to improve their own condition for her family, to live in a neighborhood that's really great, the same kind of neighborhood that you want to live in? "
(After this article was written, Kresge's Detroit Program team learned that Betty Mills, a vice president of the Manistique Block Club who was active in the treehouse project, died of COVID-19. She is in the group photo on pg. 49, dressed in a gray jacket near the back. The Detroit Program honors her as emblematic of the many Detroiters working toward better neighborhoods in a better city.)
Freelance writer John Gallagher is based in Detroit, Michigan.
Moving Resources to Where They Matter Most

Chantel Rush, Managing Director, American Cities Program
As a program focused on creating transformative change for people living in historically under-resourced places, Kresge's American Cities Program team has always known the extent to which our work advances racial and ethnic equity. It depends on two factors: where and how.
By working in cities predominately populated by people of color, and often overlooked by national philanthropy, we advance equity by shifting resource flows. In 2019, we increased our focus on two such places — Memphis, Tennessee and Fresno, California.
By serving disinvested neighborhoods, we are attempting to right historical wrongs. For instance, in April 2019, we launched Kresge Innovative Projects: Memphis. This initiative provided a total of $2 million to 20 organizations in Memphis neighborhoods. Each organization is leading a project designed to catalyze positive neighborhood change. By partnering with local leaders and supporting organizations that serve and are led by people of color, we advance equity by ensuring those in power reflect the communities they serve.
A focus on racial and ethnic equity also means rebuilding citywide systems, reverse engineering them to ensure shared prosperity in place, at scale. We provided grants to organizations focused on this outcome at three levels. First, we partnered with national think tanks that support cities to create these results through the Shared Prosperity Partnership. Second, we supported Local Initiatives Support Corporation and Living Cities, national intermediaries working to advance equity. Finally, we provided direct support to local organizations, such as the New Orleans Business Alliance and the Central Valley Community Foundation in Fresno. Each is focused on making economic, workforce and community development systems work for people with the fewest resources.
Going forward, a more intentional lifting up of racial and ethnic equity will continue to drive the development and execution of every single one of our strategies.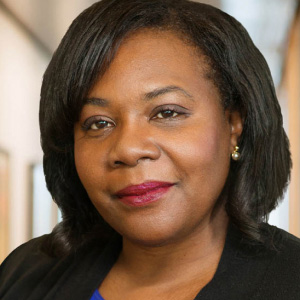 A Pledge to the Next Generation in This Moment

Wendy Lewis Jackson, Managing Director, Detroit Program
Once again, Detroit ingenuity is at the epicenter of our nation's crises. We see a 100-year health pandemic intersecting with America's 400-year pandemic of systemic racism. We see a global uprising against racial injustice. And as we watch these headwinds play out in Detroit, we know we must redouble our commitment to provide the next generation with a more equitable city.
Our Detroit Program's perspective is best summarized in a quote from the 1960s that still resonates from groundbreaking author and civil rights activist James Baldwin: "Not everything that is faced can be changed, but nothing can be changed until it is faced."
It's essential that as a community we face the hard truths of inequality and then have the courage to challenge the structures that perpetuate inequality — and not just address the symptoms. Looking back on 2019, our commitments to tackling the root causes seem all the more relevant.
Those 2019 investments:
Moved capital closer to the ground through neighborhood investments. Kresge has a powerful track record of fortifying neighborhood collaboration and strengthening problem-solving capacity. This, in turn, augments the ability of residents and neighborhood organizations to forge more meaningful and effective partnerships.
Reflected an equity analysis in all of our strategies to enhance the community's ability to gauge the efficacy of the city's efforts to rebuild inclusively. This permitted the design of accountability structures, such as Detroit Future City's Center for Equity, Engagement and Research, which Kresge conceived to provide ongoing, systematic assessments of how effectively public, private and nonprofit recovery strategies are advancing inclusion and opportunity.
Prioritized distributive leadership approaches that vested significant decision-making opportunities among a broad group of dynamic and responsive leaders across multiple sectors.
In Detroit, solutions must confront the systemic racial exclusion that has been a defining characteristic of the region's economic landscape. That's what Baldwin was saying half a century ago. It's what a young generation in the streets is saying today.
We take inspiration from both as we work toward a better future.